Why Plant the Best Perennials for Bees in Your Garden?
Flowers are always an asset for a garden. They look great and their smell is always welcoming.
At the same time, planting flowers is great for nature as a whole since they attract bees to the garden.
The flowers that attract pollinators are highly beneficial for the garden, with perennials for bees being preferred since they are a particularly good food source.
Below you can learn about some of the best perennials for bees.
They are perfect for your pollinator garden and will attract bees together with other pollinators such as butterflies while also acting as a very good food source for insects.
1. Aster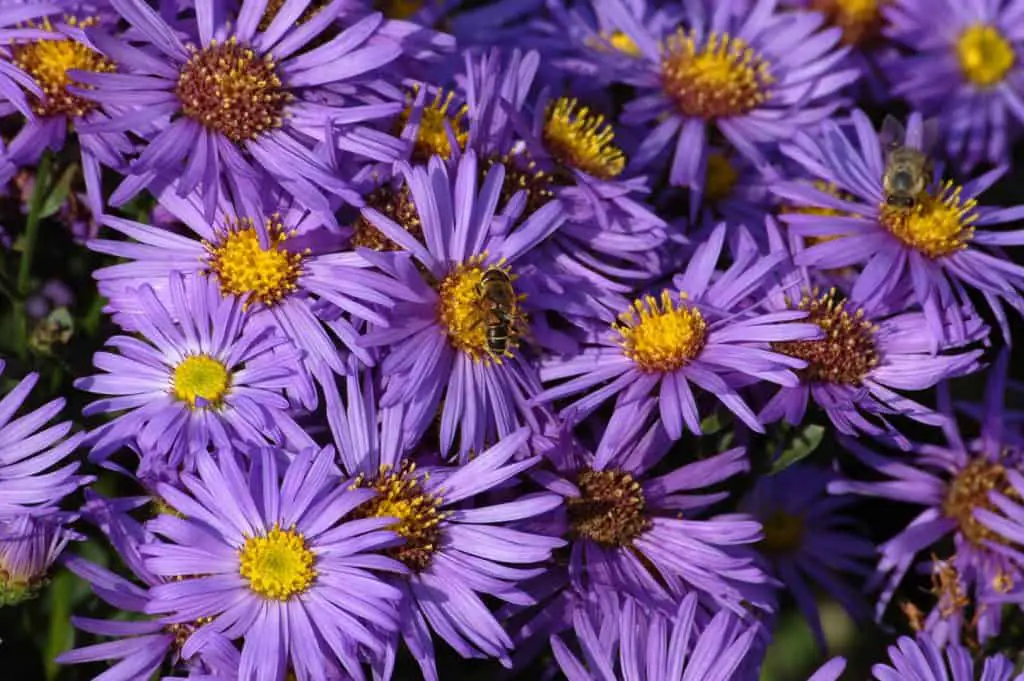 Asters are some of the best perennials for bees to plant in your garden because they bloom during late summer and early fall. This makes them great nectar sources and offers the much needed late-season pollen.
Asters will grow as high as 4 feet and can even be great hosts for caterpillars.
2. Helenium – Sneezeweed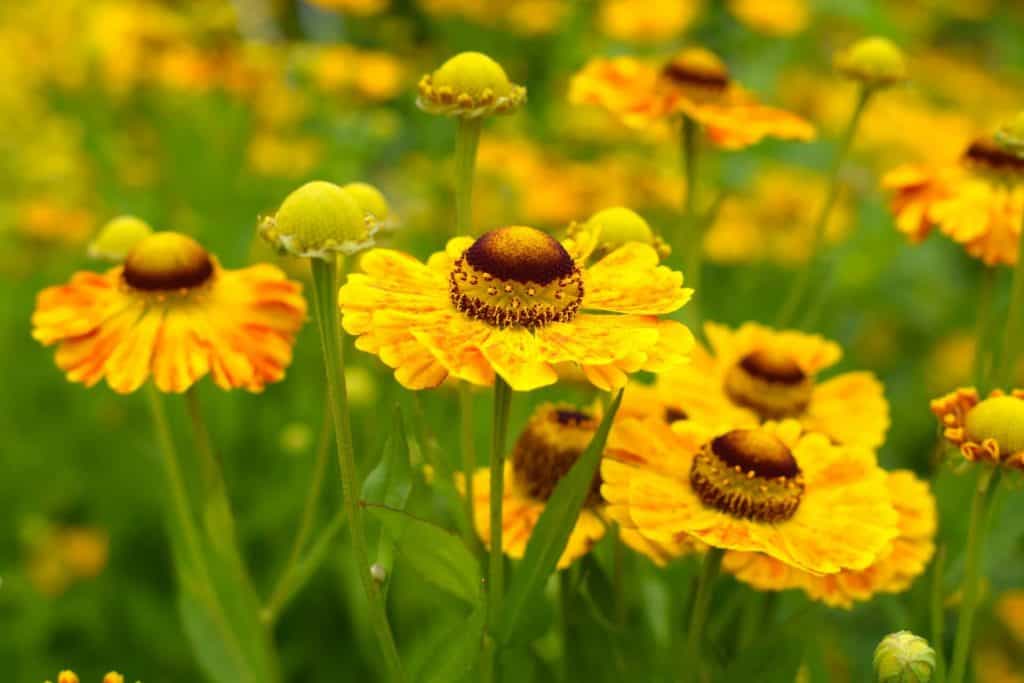 Sneezeweed flowers have shades of yellow, reddish, or orange, based on what you get. They attract bees and many other pollinators, except butterflies.
Some people make the mistake of thinking that this is just a weed because of the name but it is not and your allergies will not be a problem if you choose sneezeweed.
Native helenium grows up to 5 inches and some of the cultivated varieties will be much shorter. The perennial blooms summer to fall and is mainly beneficial in a perennial garden for bees.
3. Buddleia – Butterfly Bush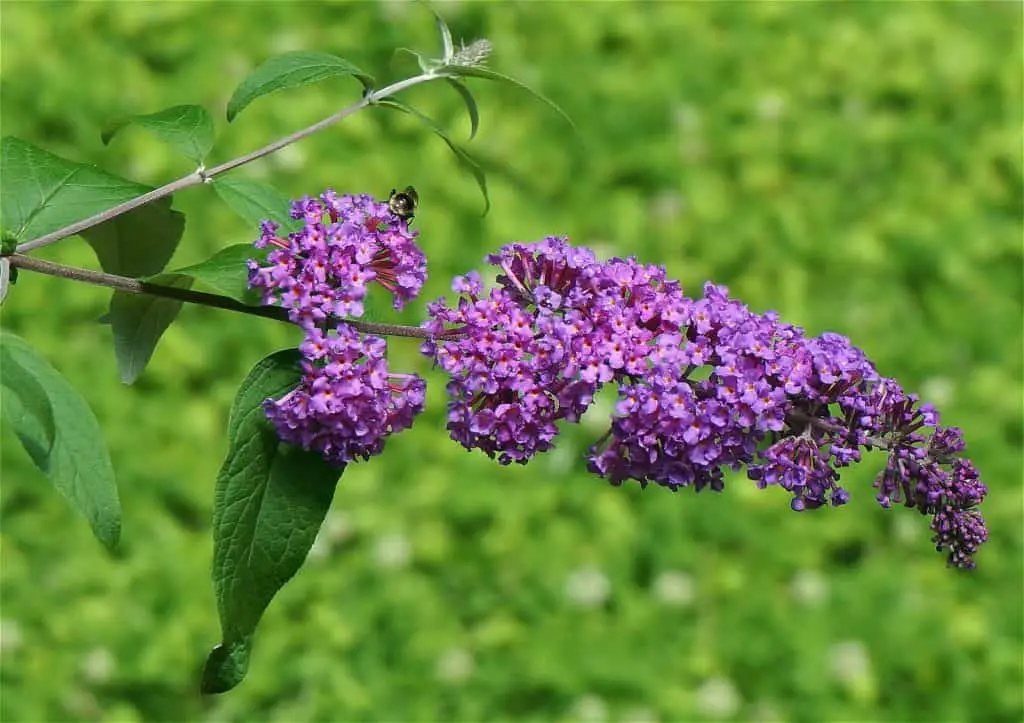 This is one of the controversial perennials for bees. It does attract insects but it is not useful as a host plant.
In some parts of the US, it can even crowd out the native plants and is quite invasive. However, it is beautiful as it comes in various shades of white, blues, pinks and purple.
It can grow up to 5 inches and can do well even in the shade.
4. Rudbeckia – Black-Eyed Susan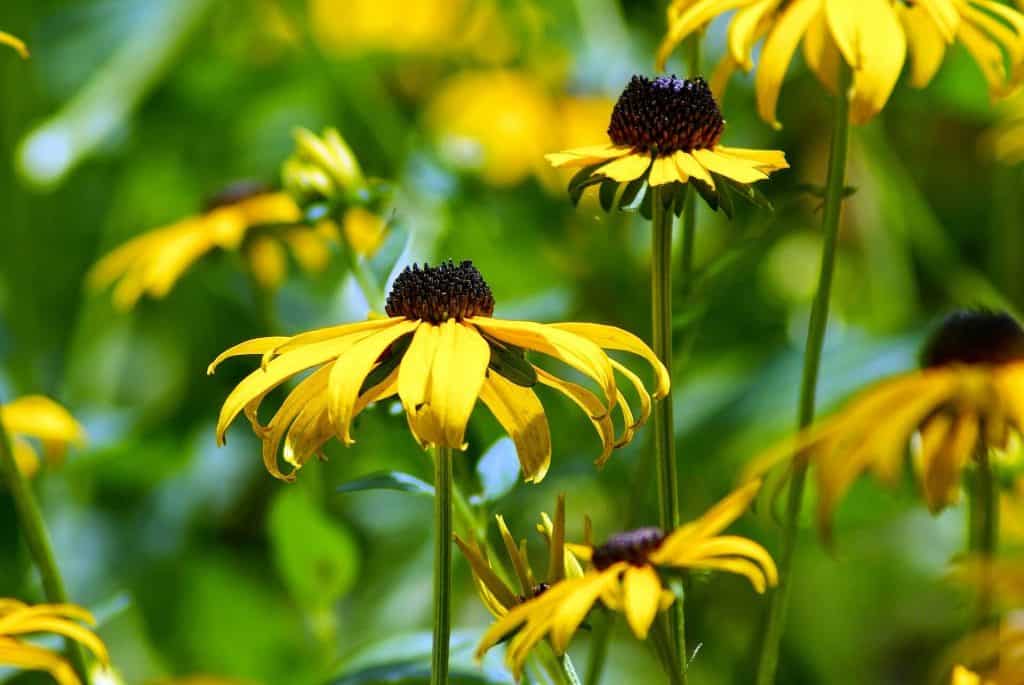 Black-eyed Susans are great for a perennial garden when you want to attract bees and some other really interesting insects like beneficial wasps, colorful beetles, and syrphid flies.
They bloom during the summer and require full sun to grow. The plants grow as high as 24 inches and the most common variety you can find is Goldsturm.
5. Solidago – Goldenrod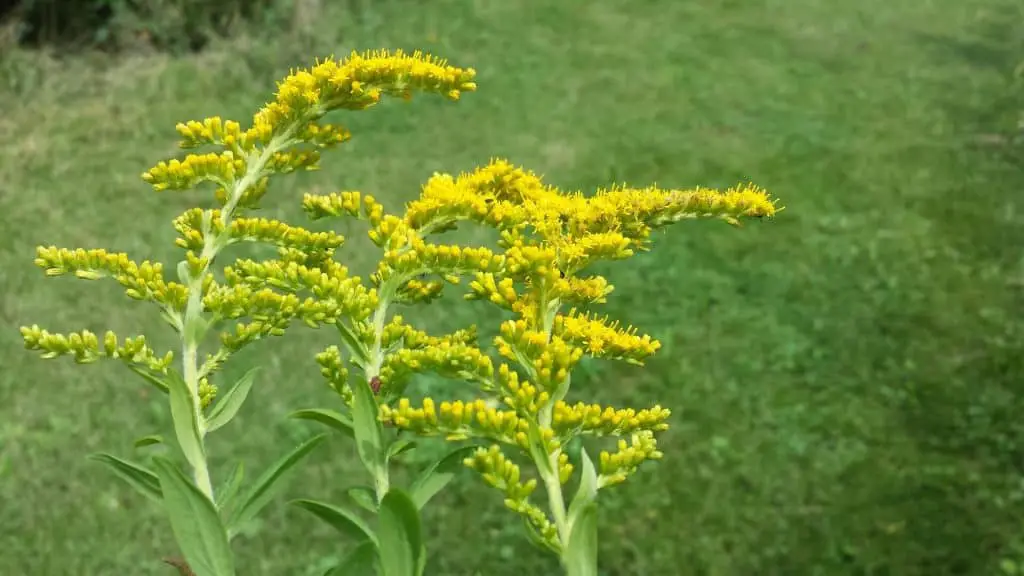 The bright yellow flowers of the goldenrod easily attract bees. The native variety blooms during late summer and can even go into fall.
Other cultivated varieties will bloom earlier.
Goldenrods can grow as high as 24 inches and love the sun. The difference between the cultivated varieties and the native perennial is that the cultivated ones are shorter.
6. Monarda – Bee Balm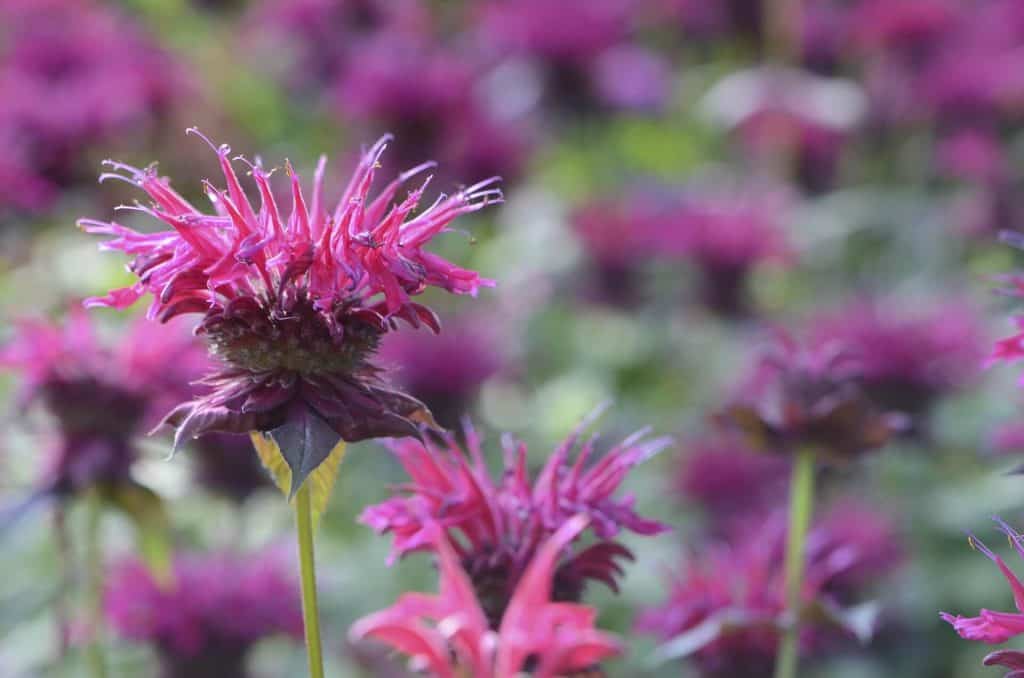 Bee balm (also known as wild bergamot) is a sure thing if you want to attract bees to your garden. It is edible and features square stems.
This perennial is also often used to make tea.
You can choose out of various bee balm varieties with many different colors. The really common ones are pink and red but you can also find wild bergamots that are white or lavender.
The problem with bee balm is that it can easily be affected by powdery mildew. If you live in an area where this is possible, it is better to opt for the varieties that are fully mildew resistant.
Bee balms attract bees, butterflies, and hummingbirds. They bloom during summer and grow up to a height of 12 to 36 inches, based on the variety chosen.
7. Asclepias – Milkweed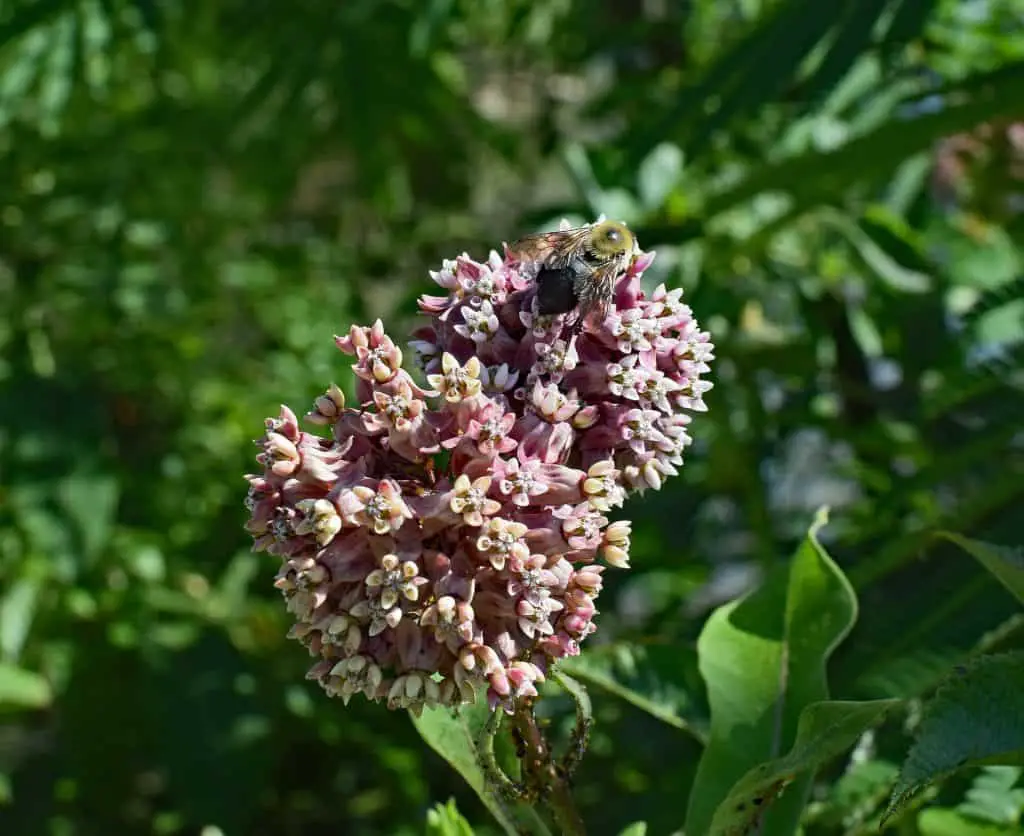 Milkweed is beautiful and is highly preferred by people looking for the best perennials for bees. It attracts the stunning Monarch butterfly and its nectar is appreciated by many pollinators.
A huge draw for the plant is its aroma, especially the one coming from the common milkweed.
There are various milkweed varieties you can choose from. The really popular ones are butterfly milkweed, tropical milkweed, and swamp milkweed.
The height of the plant varies from one type to another. For instance, the butterfly milkweed grows up to 3 feet but the common milkweed can reach a height of 5 feet.
Choose milkweed based on what you like and when it blooms, with some species blooming during July and others blooming during June.
8. Echinacea Purpurea – Purple Coneflower
The purple coneflower is often a star of the pollinator garden. It is great at attracting bees and other beneficial creatures.
This perennial needs full sun and can grow up to a height of 30 inches. It blooms during summer.
Some of the Other Best Perennials For Bees To Consider
Obviously, based on where you live, some perennials are better than others. You want to think about the reason why you plant them.
These are plants that are really good at attracting bees but can also attract other insects. Also, some are better if there is a vegetable garden nearby.
With this in mind, some other perennials to consider include:
Coreopsis
Anise Hyssop
Thrift
Joe Pye Weed
Speedwell
Yarrow
Phlox
Some Tips To Help You Grow A Great Perennial Garden
Choosing the best perennials for bees is just the first step if you want to build a really great garden. You will attract bees but there is so much more to be aware of.
Usually, you do want to talk to an experienced gardener whenever you need help.
Although there is a lot to be said about the topic, here are some tips to get you started:
Embrace Variety – Successful gardening of any kind is all about increasing the variety and number of plants that can attract various pollinators. Having a single perennial type is not enough.
Bloom Succession Counts – The best bee garden is the one that properly travels through time. This means blooming needs to happen from the start of spring to the middle of fall.
Weeds Are Needed – If the garden does not have weeds, it is not as attractive to the bees.
Large Drifts – When groupings are large, they attract more bees.
Some Herbs And Vegetables Help – Some really good herbs and vegetables to consider are leeks, carrots, basil, radishes, cilantro, and kale. They offer bee food if they blossom and can pollinate food crops.
Pest Control – This is still needed. Do not forget about pest control.
For additional insight into other factors that contribute to a healthy honeybee colony, we highly recommend this article from honeybeehobbyist.com.