If you love plants but sometimes forget to water them – or take frequent trips that take you out of town for days at a time, self-watering planters are a great option for you.
These special containers bathe plants with moisture and can keep plants adequately hydrated for days, even weeks.
We've spent weeks, testing, reviewing, and researching additional user reviews to put together our list of the best self-watering planters. With a range of models for houseplants, outdoor flower pots, hanging baskets, or vegetable gardens, you're bound to find a model that fits your budget or decor.
Peruse our top picks below before making your purchase decision.
But before we dive into our top picks, let's first review the details of self watering planters and what you should look for.
Our Approach To Finding The Best Self-Watering Planters
Self-watering planters come in different sizes and shapes to suit the plant you are rehoming. They also come in different colors to match your home decor. What's most important is picking a planter that meets your plant's water needs while convenient for you.
Size of the Water Reservoir
Not all self-watering planters are created equal in the amount of water they hold, nor do all plants require an equal amount of water. Some might need less frequent watering and, in fact, do best when the soil dries out between watering; too much water can cause root rot in plants such as succulents, cacti, orchids, and others.
Before selecting the best planter, make sure you know the moisture requirements of the plants that will call the container home.
If you have plants that would do well with an automated watering system, make sure to select containers that can hold enough water for 7-10 days or more.
Experiment with the planter for a couple of weeks before you go on vacation or otherwise abandon the plant to make sure it delivers water in a way that benefits their water preferences.
Those that need to dry out before absorbing more water might need a pot with a small to medium reserve.
Oxygen Circulation
Plant growth depends on having enough oxygen as well as water, light, and humidity. If plant roots are overwhelmed with too much water, they can rot and kill the plants.
To prevent this, select a good self-watering pot with a divider between the water reservoir and the soil surrounding your plant's roots. This will give the plant both needed water and breathing room.
Ease of Use
The filling mechanism should be convenient to reach. The pot should have a water level indicator that shows how much water the plant has left or an indicator that the plant is dry.
While you can pick up small pots and judge the remaining water by eyeballing it or by the weight of the pot, this is impractical for tall, heavy plants.
Other Factors to Consider
Size and Color
Pots are available in every size, style, and color, so you can choose what you like and what size the plant needs.
Price
Self-watering planters start at just a few dollars for pots with wicking systems into the hundreds for large pots with more complex setups. A sound system can prolong the life of a plant indefinitely.
FAQ's About Self Watering Planters
1.Why use a self-watering planter?
A planter that delivers water to a plant from a reservoir allows consistent moisture and less frequent watering, promote efficient water use, and prevents plant diseases.
Water supplied through the roots is ideal for most plants. Some species (phlox and tomatoes come to mind) can develop fungal diseases if the leaves get wet in the watering process. When spraying or using a watering can, water may land on the floor or a plant's leaves where it evaporates and does no good.
Water delivered to the plant through the reservoir allows the plant to get water consistently, which is best for the growth of most plants.
2. What are the parts of a self-watering planter?
Most self-watering planters contain:
Planting container that holds the soil and potting mix that surrounds the plant
Water reservoir that varies according to the size of the container
Wicking mechanism that goes between the water reservoir and the potting mix in the container
Fill tube to add water to the planter
Overflow hole or spout to drain water if the reservoir is overfilled
Water level indicator to show the amount of water in the reservoir
Drainage hole and plug to drain outside planter at the end of the season
Some use a wick system, while others have a separate reservoir. A strip of the capillary mat, an absorbent tube-shaped plug, or a thick string is placed inside the container with the wick system.
With one end in the water reservoir and the other in the potting mix, the wick sucks water out of the reservoir and delivers it to the potting mix. The other system has a section positioned inside the water reservoir so that potting mix is directly in contact with the water.
Water from the wet mixture in that section is pulled up into the rest of the planting container through capillary action.
3. What happens when a plant is deprived of water and then flooded?
An owner who tries to resuscitate a plant suffering from "water stress" may be tempted to drown the soil, but this not always be the best idea. Roots can rot in the presence of too much water all at once.
Self-water planters store the water and deliver it when the plant needs it.
4. What plant processes suffer from a lack of water?
Photosynthesis. Plants typically create their own food through photosynthesis based on the amount of water, sunlight, and carbon dioxide they receive. When they get too little water, they suffer from "water stress," and the process slows down or disappears, which results in the leaves turning yellow.
Respiration. When plants break down their food supply, they usually use up the food quickly to grow or respirate. As water passes through the system, it delivers nutrients and minerals to the plant. As the plant loses its ability to photosynthesize, the growth slows down, leaves discolors, and flowers or fruit drop off as the plant cannot support them.
Transpiration. Water sucked up by the roots is drawn to openings in the leaves known as stomas, which also expel waste products like oxygen, take in carbon dioxide, and cool plant tissues. Transpiration keeps the plant cells evenly filled with water, so growth continues, but when the water supply is slowed or stopped, the plant may begin to die from the top down.
Some plants, such as cacti and agaves that manage periods of drought have advanced C4 and CAM metabolic systems that allow photosynthesis to take place deeper inside plant tissues. No water is lost through the cells in the epidermis of leaves and stem, known as stomas.
When the stomata, which controls the rate of gas exchange, close entirely at night, they exchange gases with the environment. Even with minimal water, plants with C4 systems thrive where others do not.
5. How do you set up a DIY self-watering planter?
While there are self-water planters available at many price points, you can set up one yourself, either using a kit or by following these steps:
Place a layer of gravel or sand in the bottom third of a container with drainage holes. Cover it with a porous cloth or even window screening, and then fill the rest with potting soil.
Add a piece of PVC pipe to serve as your watering tube. Cut a hole in cloth and put it in place before adding the rest of the soil.
6. Are there any disadvantages to self-watering planters?
Some plants such as orchids and succulents need to have their roots dry between watering, rather than the constant moisture of a self-watering system. Before trying a pot like this, be sure to read reviews to see if other users have successfully maintained their orchids, succulents, etc., in such a pot.
Alf-watering pots don't work well outdoors in climates that are moist or rainy. The drainage plugs on some plants made for use outside can help manage the water.
#1 – Lechuza 13183 Classico Color 21 Self-Watering Planter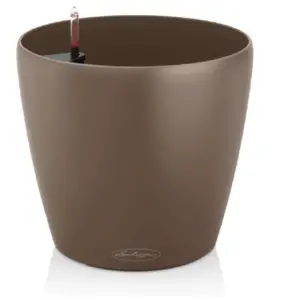 Lechuza, a German company, makes a range of self-watering planters arguably among the best in all categories, including indoor and outdoor, tall and short, garden box, round and square, table and hanging.
One of the most versatile choices is the 13170 Classico Color 21 self-watering planter – even though you might drool over the 13837 Cubeto Color Bowl 30-Quartz White Indoor/Outdoor Planter (perfect for disc gardens) or the intriguing Lechuza 13360 Puro 20 Texture Self-Watering Garden Planter, an 8″ ball that comes in black, white, or lime,
Available in slate, white, nutmeg, and garnet, this rounded 9″ x 8″ planter is good for table or patio plants, indoors or out. It is shatterproof, UV-resistant, and tolerant of frost. There are versions of this pot that measure 11″, 17″, 24″, and 28″ when you need a large or tall self-watering planter.
Pros
Clearly written instructions for use
Suitable for indoor and outdoor use
Easy to care for
Even watering due to Lechuza Pon substrate in every pot
Cons
Pricey, especially in larger sizes
Roots take about 3 months to grow into the substrate
Features
Water level indicator
Water supply shaft
Lechuza-Pon, their specially-formulated plant substrate, as a separating layer
Separator
Drain plugs (remove for outdoor use)
Size of the Water Reservoir
This Classico Color 28 planter holds 27 ounces of water, but the reservoir size increases as the pot get bigger. The 43 model, which is 15.5″ tall, holds 1.5 gallons.
The length of time between times where you have to fill up the reservoir depends on the size and location of the plants, along with temperature and humidity.
Oxygen Circulation
Because aerating plant roots is essential, Lechuza pots come with a specially-formulated plant substrate, Lechuza Pon, which separates your potting soil from the water reservoir. Your plant roots are aerated, as well as nourished, and provided with just the right among of moisture.
The planter has a drainage plug to remove excess rainwater for outdoor use, so the Classico Color works well for annuals, blooming plants, and foliage.
Ease of Use
The pot has a water level indicator on top, so you can see when it is time to water again.
Lechuza planters advise that you should water from the top, right on the soil at first, to let the plants roots grow into the substrate before relying on the self-watering feature. (This can take about 12 weeks, but the Classico will take care of your plants for years.)
Once the roots have taken hold, you still add water from the top in the fill tube near the indicator.
Price
Convenience is not cheap. The Lechuza Classico 21 runs $32 on Amazon, but larger versions go all the way up to $198 for the 28″ size. Suppose you consider the cost of replacing plants that die from a lack of water. In that case, this planter is a good investment – especially as the substrate material is included.
Comparison to Other Self-Water Planters
These planters are great in the long run. Still, they require that you let the root system develop in the substrate before getting the full benefits of the self-watering feature.
If you need an immediate solution, you might consider pots by GardenBasix, Mkuno, or Alotpower that use a wicking system.
Verdict
Lechuza pots are more costly than some other brands. However, they have revolutionized plant ownership and paid for themselves with hearty, healthy plants.
#2 – Window Garden Aquaphoric Self Watering Planter (7″) + Fiber Soil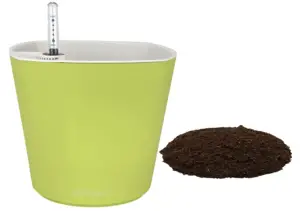 The Window Garden Aquaphoric Self Watering Planter is the result of a Kickstarter project called Micogreenz that took off and grew into a line of products for growing lush plants right at home.
The popular 7″ size is foolproof, even for beginning gardeners, due to its self-water feature that can accommodate plants with a wide range of water demands. It even comes with fiber potting soil to make it handy and complete whether you buy it for yourself or a gift.
Aquaphoric planters come in 12 lively colors that include fuchsia, chartreuse, wine, and purple, along with more sedate ivory, blue, and black. All of which will complement a variety of decor.
Pros
Includes 2 quarts of potting soil
Versatile for a wide range of plants
Makes a great gift
Reasonably priced
Handy water level indicator
Cons
Soil has no nutrients, so plant food is needed at once
Small water reservoir
Features
7" x 7" x6 .5"
Self-watering with water level indicator
Sleek lines in 12 available colors
For indoor use
Size of the Water Reservoir
The Aquaphoric planter uses the principle of hydroponics to give plants roots just the right combination of water and oxygen that allows their roots to spread naturally and promotes growth.
The reservoir on this pot is relatively small. Still, its effectiveness in watering a wide variety of plants indicates that the size is just right.
Oxygen Circulation
The pot comes packaged with 2 quarts of coco fiber potting soil to ensure that roots can breathe. The soil quickly wicks up the water and keeps the soil from being too wet and compacted, potentially damaging the roots through overwatering.
The instructions clearly explain how to wet the soil, add it to the plant, and assemble the planter and water indicator. (This is important, as assembling it wrong can lead to dangerous overwatering.)
Ease of Use
The water indicator is straightforward to read. Amazon reviewers noted that they go a week without water, and the payoff is that even hard-to-grow plants thrive with this system.
Right near the water level indicator is a place to add the water when needed.
Price
Regularly priced at $17 on Amazon, these occasionally have coupons that make the planter an even better value. (As of this writing, the price is 25% off.) The regular price is attractive enough to encourage you to buy multiples.
Comparison to Other Self-Water Planters
Not only is the Aquaphoric effective and easy to use, it comes with its own supply of soil to ensure that the pot does what it promises. This pot and others made by the company are relatively small – a limitation if you have bigger plants.
For bigger plants, you might want to look at the Santino line or, for even more choice, the Lechuza.
Verdict
The combination of price, color, function, and knowledge you are helping a small business make the Aquaphonic a good choice if you need a smaller, versatile planter.
#3 – Keter Easy Grow 31.7 Gallon Raised Garden Bed with Self Watering Planter Box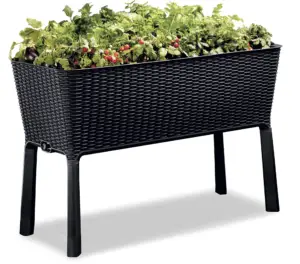 If you have ever wondered if the convenience of automatic watering is available for vegetables, look no further. The Keter Easy Grow 31.7 Gallon Raised Garden Bed with Self-Watering Planter Box has the size and features to be the perfect self-water vegetable planter.
This planter measures 44.9″ W x 19.4″ D x 29.8″ H, making it plenty big to pack with several rows of lettuce, radishes, herbs, tomatoes, and more. While you can use it for raised-bed gardening anywhere, it is well-suited for apartment balconies or patios. The rattan pattern complements outdoor furniture.
Pros
Eliminates the need for weeding
Prevents back and joint strain
Saves space
Looks great
Makes watering easy
Cons
Some customer complaints about the legs breaking
Leakage can be a problem
Features
Easy assembly
Complete water system with reservoir to prevent overwatering and root decay
A drainage system that can be opened or closed
Water level gauge
It can be used indoors or out
Size of the Water Reservoir
The size of the water reservoir is unspecified. Product information does not specify much about its self-watering capabilities. Water can accumulate in the planter after excess rain, allowing users to take advantage of the drainage plug.
Oxygen Circulation
The unit has a tray beneath the dirt that catches water and hydrates the plants.  When used outside, keeping the drainage spigot open allows excess moisture to escape. If the water is collected, it can be reused to water the plant.
Ease of Use
There is an indicator stick with a sponge on the bottom that will expand when saturated. If the small leaves on the indicator stick are even with the top of the hole, you need to water. For this to work, you should fill the planter with water through a standing pipe.
Price
Currently available for $100 on Amazon, this item is popular at garden centers everywhere, often at discounted prices.
Comparison to Other Self-Water Planters
One of the most appealing aspects of the Keter as a self-watering vegetable planter is its size. Many Amazon reviewers used this for tomatoes or a selection of several vegetables such as lettuce, Swiss chard, herbs, radishes, garlic, and more.
It functions like a traditional raised garden bed. Similar choices might include the Sunviv Outdoor 2, or the 2-tiered Vingli Square Raised Self-Watering Garden Bed.
Aside from these oblong planters, another way to grow vegetables is to do container gardening using smaller self-watering containers such as those made by Lechuza. The Lechuza 15222 Cubico Cottage 30, a tall container, or the 31″ long Lechuza Balconera Cottage 80 are excellent choices.
Verdict
While the Keter does not offer as sophisticated a self-watering system as other planters described in this review, it has over 3,200 reviews on Amazon, with 91% of them garnering 4- or 5 stars. Many who praised it are repeat buyers, and Amazon has a hard time keeping this in stock.
#4 – Hydrofarm GCTB2 Heavy Duty Tomato Barrel with 4′ Tower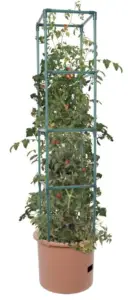 If growing tomatoes is your summer jam, the Hydrofarm GCTB2 is a self-watering tomato planter that reminds you of the cages many people use for growing this vegetable. A round planter on the bottom that contains the automatic watering system is topped with a 4″ tall trellis and cage that keeps the fruit growing upwards.
The product initially had a round cage, but the latest version is square, which gives more room. Amazon reviewers reported that just a single small plant could grow into a 6′ giant with plentiful fruit.
Pros
easy-to-fill reservoir delivers water & nutrients from below
Sturdy frame to support the weight of the fruit
Trellis expanded to 4″ and can be further extended by adding extra rings and risers as the plant grows
Great for patios and apartments
Casters can be added to the bottom for easy moving
Cons
Users report that missing pieces and other quality control issues are common – but Hydrofarm customer service is usually helpful.
Not as sturdy as needed
The reservoir may not be big enough to satisfy thirsty plants.
Features
Trellis expands to 4′ Tall
The water reservoir holds approximately 1. 3 gallons (5 L)
Easy-to-fill port in the side of the pot
Includes round base and planter, 16 vertical trellis risers, and 16 horizontal crossbars
Size of the Water Reservoir
The easy-to-fill reservoir holds 1.3 gallons or 5 liters and is accessible through a small square port on the side. You can add water to the reservoir every few days when the level goes down and fill it until the water begins to spill back out of the watering port.
There is apparently no water level indicator, but some have suggested adding a homemade one. Tomatoes love water, so it may be hard to overwater them.
Oxygen Circulation
The pot contains a platform piece that positions the soil above the water. To prepare the roots for self-watering, you need to use potting mix or coco coir (perhaps missed with perlite), not just potting soil.
As long as you use a similar soil with wicking properties, the roots will quickly fill the bottom of the container within about three weeks and receive hydration through the reservoir. When the plants are tiny, you can add some water at the top.
Ease of Use
If all goes according to plan, you just put a tomato plant or two in an adequately prepared container, add fertilizer, and let them go to town.
Price
At $33 on Amazon, this planter is priced low enough for a gardener to buy several. Allowing you to accommodate a larger crop of tomatoes or other crops that climb or grow tall enough to need support.
Comparison to Other Self-Water Planters
Hydrofarm has several variations of the 14″ round trellis system. They also have a 10-gallon version, measuring 29.92″ x 13.78″ x 13.78″, which helps when growing tomatoes or other climbing plants.
As some critics complain about its sturdiness, a smart gardener might buy a tall self-watering planter from Lechuza and add a metal cage to support the plants.
Verdict
While some buyers had complaints about the durability of the trellis system, there were few complaints about the pot itself. About 90% of Amazon reviewers were delighted with the robust tomato crops they harvested. For less than $35, this product might be worth a try.
#5 – GardenBasix Self Watering Pots – Window Box for Indoor Plants – Set of 6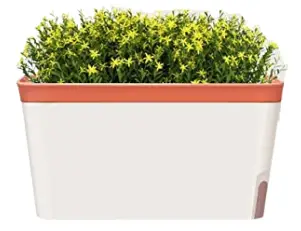 Suppose you want to try self-watering indoor planters but are concerned about the high cost of rehoming your family of plants. In that case, GardenBasix offers a set of six pots for an economical $27.
The bundle includes three 5″ pots that are 6″ high, plus three oblong planters that measure 11″ x 4.7″ x 5.5″ that all work with a wicking system with capillary action.
Absorbent strips of cloth are looped through holes in the planter's inner liner, which soak up water from the bottom of the pot to keep the soil wet and the roots hydrated through capillary action.
Using any absorbent material, you can make your own DIY self-watering planters. Still, companies like GardenBasix have the design down pat.
Pros
A simple solution to deliver water to the roots
Economical
Set includes orange, green, and taupe liner in white outer liners
Simple design
East to view water level
Cons
Water viewfinder may be hard to see
Pots are small, so plants may have to be repotted frequently
Features
Six pots in two sizes in colors, but product available with all-green and all-orange containers
Self-water via absorbent cloths with wicking action
Visible water level window for assessing water level
Water stored at the bottom below the internal pot
Size of the Water Reservoir
While the reservoir's capacity is not given, there appears to be an inch between the liner and the outer pot. Users attest you can go several days between watering.
Oxygen Circulation
By providing the right amount of water, these self-watering pots also allow the proper amount of oxygen. This encourages roots to grow deep, not just laterally, by sucking up water poured on top of the soil.
Ease of Use
After you pour water into the water injection, you can see how much water is in the reservoir through a water level window on the side of the container, near the bottom. When it is running low, you can fill up the reservoir again through the port.
Price
As noted above, GardenBasix offers this set of six for $27. They have other selections that offer comparable values.
Comparison to Other Self-Water Planters
The GardenBasix set offers a unique value to meet your gardening needs for plants and even herbs. The company has other size variations that are also reasonably priced. Lvetek offers a similar deal on a pack for six pots in varied sizes. However, they use a rope wick rather than absorbent fabric.
Verdict
If you want economy and style in a well-designed planter, you might give GardenBasix a try. Their pricing may make you more willing to provide self-watering planters a shot.